5
minute read
As a part of connecting with real estate agents the Gold Coast Bulletin recently invited Gold Coast agents from different real estate groups for a Seminar with Tom Panos, the Real Estate Advertising Director for News Limited.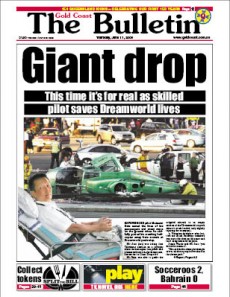 Now these seminars were a little different. They were held in a boardroom atmosphere and each real estate group had their own session with Tom and other Bully representatives. For reasons that I wont get into we did not get the rah rah seminar that was probably on the agenda. Instead we had a more open discussion of how Print fits into our offices and I for one got a lot more out of it that way.
As you would expect they were justifying Print's as a major partner in the Real Estate industry and the agents on the other side were pointing out that Print is playing a lesser role than it ever has.
Now this is where it gets interesting. I asked Tom Panos when News would be rolling out the ability to charge sellers for real estate print advertising direct rather than charging the real estate offices for the advertising.
A part industry owned real estate print publication on the Sunshine Coast called MyPropertyReview has rolled out a seller direct payment system and had used it as the cornerstone to capture a massive market share in very short time. They really use real estate salespeople as booking agents for the newspaper rather than as the client.
The system is a really a win win for everyone concerned.  The property sellers enter into a payment system that spreads the marketing over many payments and for a lot of owners they only need to pay when the property settles. Real Estate agents can get on with the job for marketing, promoting, selling  and negotiating the sale without having to be a debt collector, a job that is notoriously hard if the property has not sold.
MyPropertyReview has decimated the real estate sections in the local newspapers. In typical style the established players responded very slowly but once they lost a large slice of their business they have had to slash their price trying to entice clients back and introduce similar billing systems.
Tom Panos confirmed that News is trialling such a system in at least one marketplace and it is up for review and consideration for a much wider release.  I got the feeling that Tom himself was not too keen on the whole concept  and he quickly offered problems with the system. His main objection was the fact that the newspapers were not geared to collect thousands of payments that this sort of system would create.  This really seemed a bit of cop out  as the classified departments would take far more credit card payments than any real estate section would create.
The biggest problem I see with implementing such a system is the mates rates deals being offered for certain real estate groups would cause even more problems in the marketplace than they do now.  If some agents are on a higher print rate they can effectively mask their higher cost by only providing a total figure for all marketing costs.  But if two agents provide a booking sheet with the same ad size in the same publication on the same dates and one is nearly half the price of the other, its not that easy to hide, or to explain away.   The huge differences most newspapers have in their tiered charge system would be working against  this sort of model.  the need to have a flat rate, or something close to a flat rate to really get the most of it.
However… I think the real problem with this concept rolling out everywhere lies with the fact that for many markets they simply don't have to… Sadly it has been a long long time since an old media company has come up with anything even close to being innovative for the Real Estate industry.
I know in our market place this sort of billing system would be very welcome by many agents.
I would like to think News is trialling this for serious consideration for a national roll out but I fear that its a very localised response to a competitor. Maybe I am wrong but I reckon the major newspapers will have to be dragged kicking and screaming to release this without a competitor doing so but if your local newspaper were to introduce such a billing scheme would you welcome it? Would this cause your yearly investment in print advertising to increase? and would you offer newspaper advertising as an option to owner when previously you might have held back?