6
minute read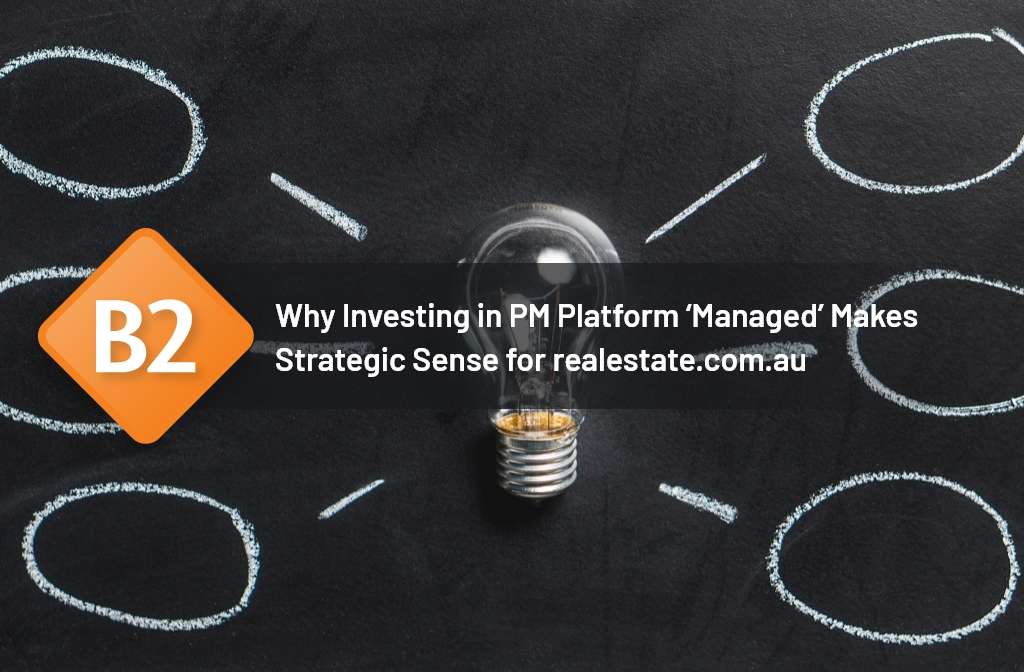 Managed, an Australian property management and investment platform, was designed to connect property managers, investors, tenants and tradespeople via an easy-to-use app.
While REA's investment in this start-up represents its viability as a saleable product aimed at increasing revenue sourced from agents, if you dig a little deeper it becomes clear that there is additional strategy underpinning this initiative.
Let's explore some of the reasons why having a stake in Managed makes sense for REA.
GETTING CLOSER TO THE TRANSACTION
Facing slower growth in their core businesses, American portals like Zillow attempted to combat the trend by investing in multiple new business lines including mortgage, Zillow Offers and lead qualification among others. As discussed in depth by Mike Delprete, the unifying theme of these new lines was that they made it possible for Zillow to be "closer to the transaction" and in turn take a clip here and a clip there.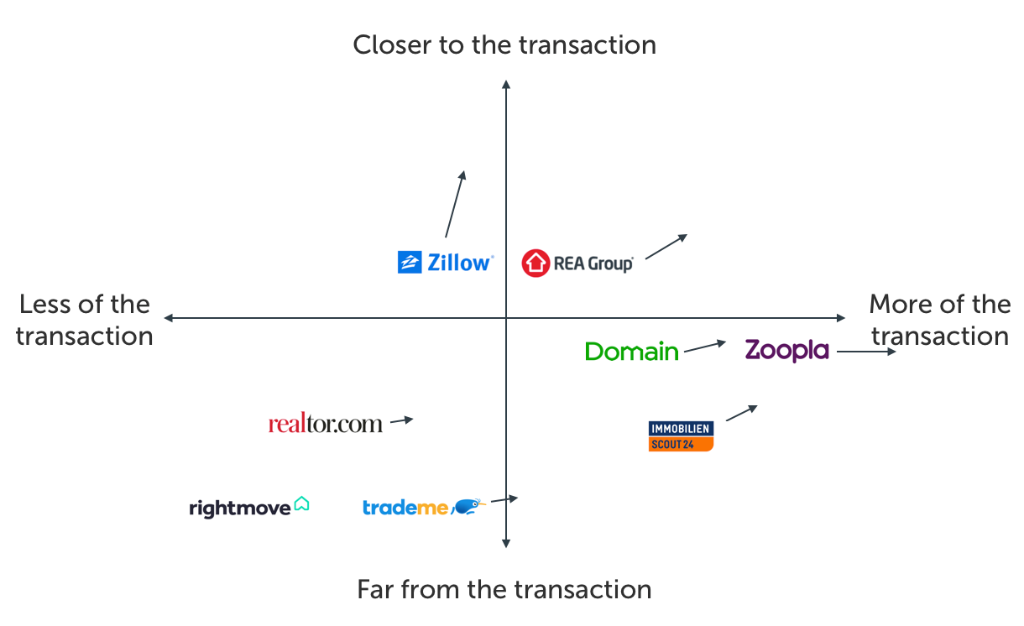 Source: mikedp.com/articles/2019/3/04/rightmoves-slowing-growth-same-problem-as-zillow-different-strategy
Learning from the mortgage side of their business where they make healthy commissions, REA is in the process of evolving from advertising portal to transactional platform. The Managed platform presents another opportunity to take a service fee from every transaction, from rental payments to maintenance fees. By promoting it through their considerable, nation-wide marketing avenues, strong uptake of Managed by both agents and investors who actively execute deals on the platform could net REA a very nice return, even if they only take a small percentage of each transaction.
Broadly speaking, as the diagram shows, REA is getting involved in more parts of the transaction process and is attempting to get closer to the actual transaction by being part of its facilitation.
Having multiple revenue streams that produce results is good business, and any new additional profit for REA will further drive their enormous stock value, which has reached as high as $113 on the ASX in the last year.
CLOSING THE LOOP IN THE TENANCY LIFECYCLE
This latest investment allows REA to close the loop in relation to the tenant transaction lifecycle.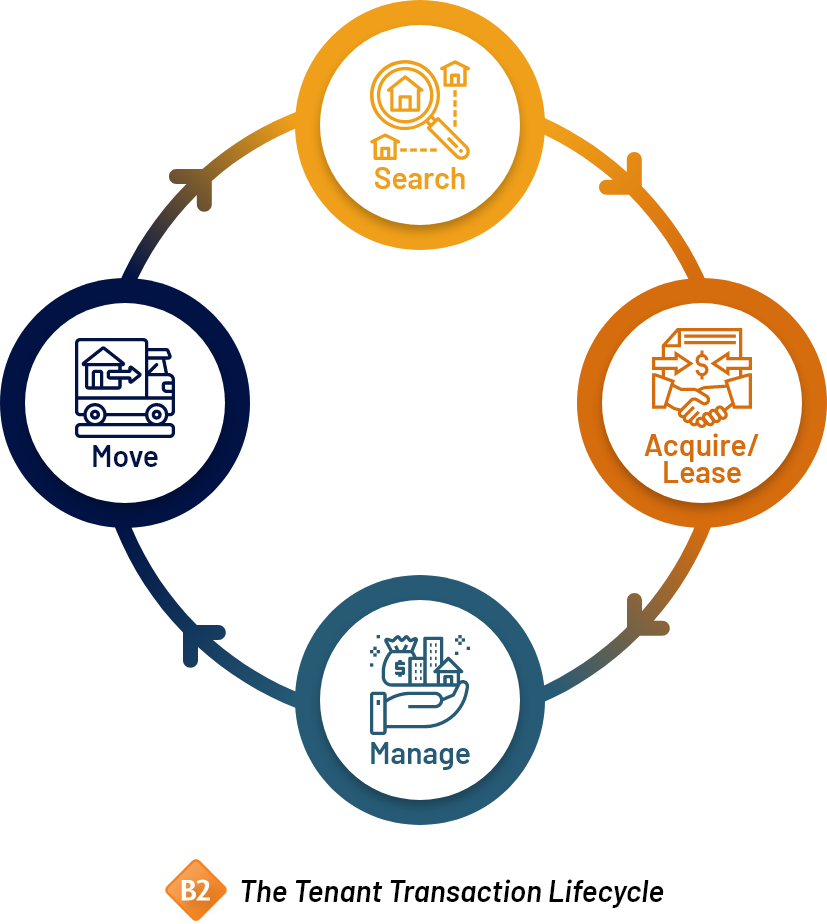 Search: When people are looking for rental properties, REA have the search component locked down. Everyone knows they can turn to REA at any time of day and find a property that ticks their boxes.
Lease: In 2014, REA acquired leasing app 1form. This product allowed them to facilitate and secure lease agreements between agents and tenants, and also took the service offerings of REA – and their involvement in additional links in the real estate chain – a step further.
Move: As an extension to 1form tenants could be put in contact with service providers to help with the move process ie utility connection providers who can streamline the move process for consumers
Manage: Traditionally, at the Move step is where REA's involvement comes to a conclusion. However, Managed now gives REA direct involvement in the property management component, effectively closing the tenancy lifecycle loop.
REDUCING PAIN POINTS FOR STAKEHOLDERS
The long-established ways of handling lease transactions present unique challenges depending on what role you are adopting in the scenario, whether tenant, landlord or property manager.
Managed has a tool kit that makes it extremely functional and handy for all stakeholders, from setting up automated payments, streamlining processes for things like completing condition reports, sharing tenancy agreements and booking maintenance calls. This makes life easier for everyone involved.
Furthermore, by solving some of the issues faced and cutting down on approval and transaction times, REA is steadily increasing their value proposition in the hearts and minds of consumers, agents and property managers. They are also establishing points of difference from key rival Domain in the hopes of increasing the already considerable gap that exists between them in terms of usership.
GATHERING DATA
Leveraging the Managed platform offers REA a unique opportunity to build on and further segment the lists of targets they can market to. Managed captures all sort of data across the spectrum of the lease transaction including:
Identifying landlords
Identifying what properties each landlord owns
The ability to carry out quality control checks on tenants through a centralised database
The type of properties and qualities of importance a tenant gravitates towards (forming a profile)
Trends around property management (e.g. forecasting when maintenance like painting will need to be completed)
The data captured can also be used to calculate the amount of time agents and property managers spend on certain functions of their role, helping them to identify efficiencies to make their business run more smoothly.
DIRECT ACCESS TO LANDLORD
In catering to all stakeholders and building in certain elements of functionality, REA have quite strategically put themselves in the position to have direct contact with landlords. This means they could disrupt agent business and even hijack relationships that agents have invested great time and effort in cultivating.
This could enable REA to encourage landlords to:
List and advertise directly with the portal
Centralise and streamline all documentation via the Managed platform
Conduct the transactions via the 1form platform
Oversee all PM needs via interactive, real-time capabilities of Managed
While it hasn't announced intentions to do so, REA could theoretically create an environment in which they can cut out traditional PM's. PropTech company :Different employs a similar, albeit less intrusive and disruptive approach as a time, labour and cost efficient alternative to PM. With the massive scope of REA's operations, they could expand the platform, automating everyday tasks while a team of virtual property managers focuses on the client in order to "deliver quality service".
FINAL WORD
By following the example of US companies like Zillow and investing in complementary adjuncts to their core property portal business that allow them closer access to more steps in the transactional chain, REA are creating new pathways to sustained revenue growth and further spreading their kingdom within the Australian real estate landscape.
It will be interesting to see where and what they invest in next and how it further embeds them within transactional elements of real estate.